Custom Colors, Finishes and Designs
Products by Gyford Standoff Systems can be made in a wide variety of custom colors and finishes. Colors and finishes are available on a made-to-order basis. Charges will vary based on quantity and finish and may require additional time to ship.
Stock Finish
Our stock finish for aluminum parts is a clear satin anodized. Stainless Steel parts are machined then ready to be sold.
Limited Stock
We stock a limited number of black and brass caps and barrels. Browse our shopping section to see which parts are available to ship today.




Custom Anodized Colors
Gyford StandOff Systems can custom anodize most parts in a variety of different colors. Browse the color selection below for samples and call 775-829-7272 for additional questions or to place your custom anodized color order.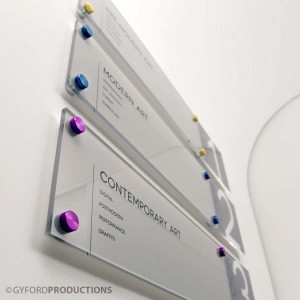 Custom Powder Coat Colors
Powder coating is great for outdoor applications. Powder coating creates a strong outer shell to ensure your color won't fade as quickly as anodized parts. Powder coating can be done in almost any color or combination of colors. See a sample of the powder coating our clients have done or browse these colors. Order your powder coated parts today by calling 775.829.7272.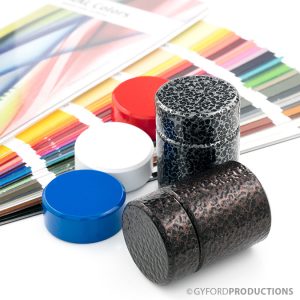 Custom Laser Engraved Caps
Feature your logo or a distinctive design in your next installation. We offer custom laser engraving of our standoff caps. Click here to learn more!