Showroom in a Box
Starter, Essential & Pro Kits Available
Gyford has made it easy to set up stunning displays to impress your customers and visitors with our Showroom Kits. Our kits have everything you need to get started, including all necessary hardware and instructions. We've taken the guesswork out of creating eye-catching displays that will show off your creativity. Choose from one of our three expertly assembled kits and you'll be off and running! Graphics shown here are for placement only. Your kit will come blank so you can personalize them with your company brand or special promotion.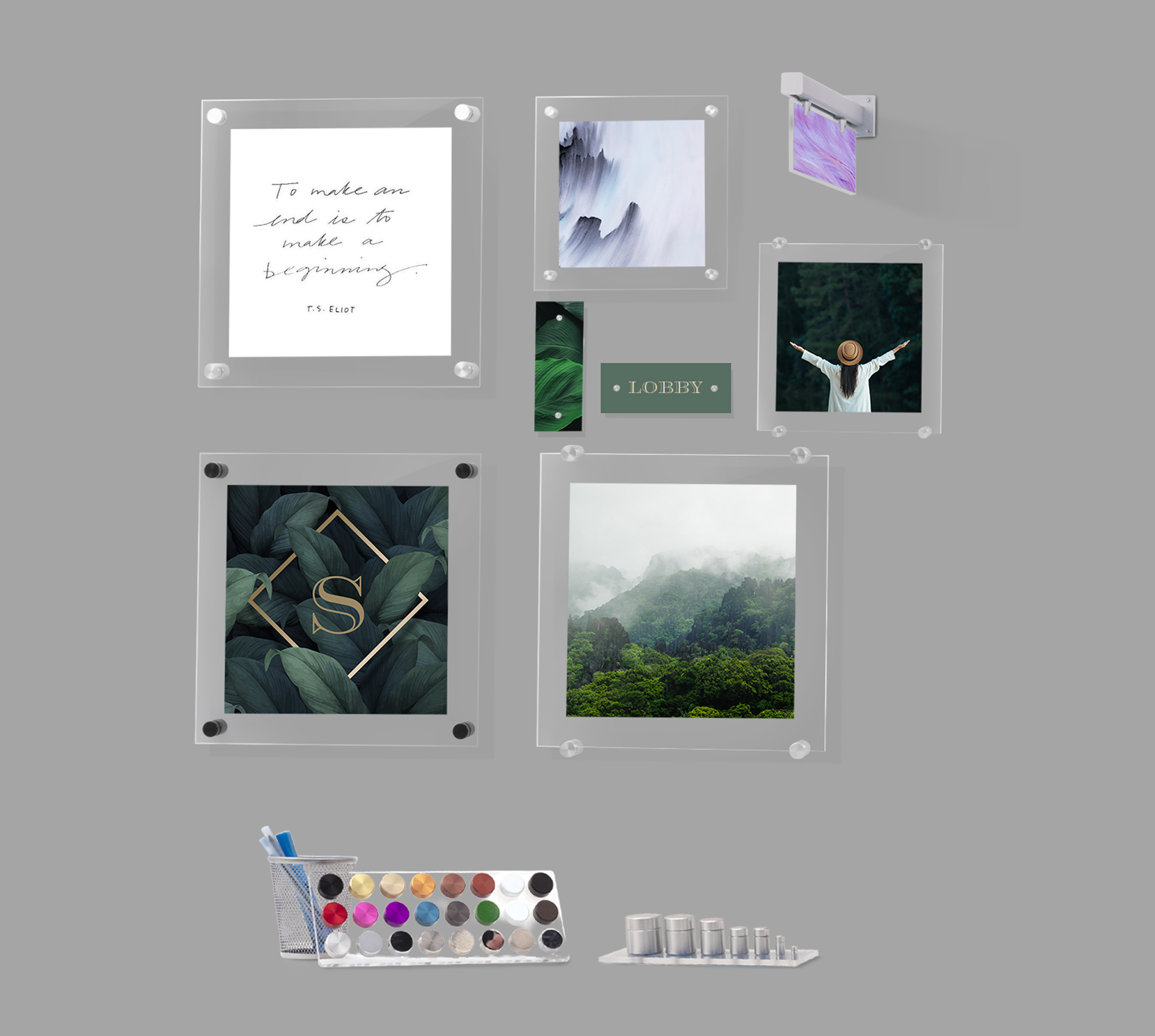 Starter Kit
The perfect kit to get your showroom up and running, featuring a selection of StandOffs in different finishes and colors, edge grips, a wall mounted blade sign holder, and desktop StandOff display and Color and Finishes display.
Essential Kit
Essential Kit buyers receive 5% purchasing discount for one year!
Our most popular kit features everything in the Starter Kit as well as the stunning LED Demo sign. This is a great way to showcase all the contemporary, high quality display options you can offer your customers.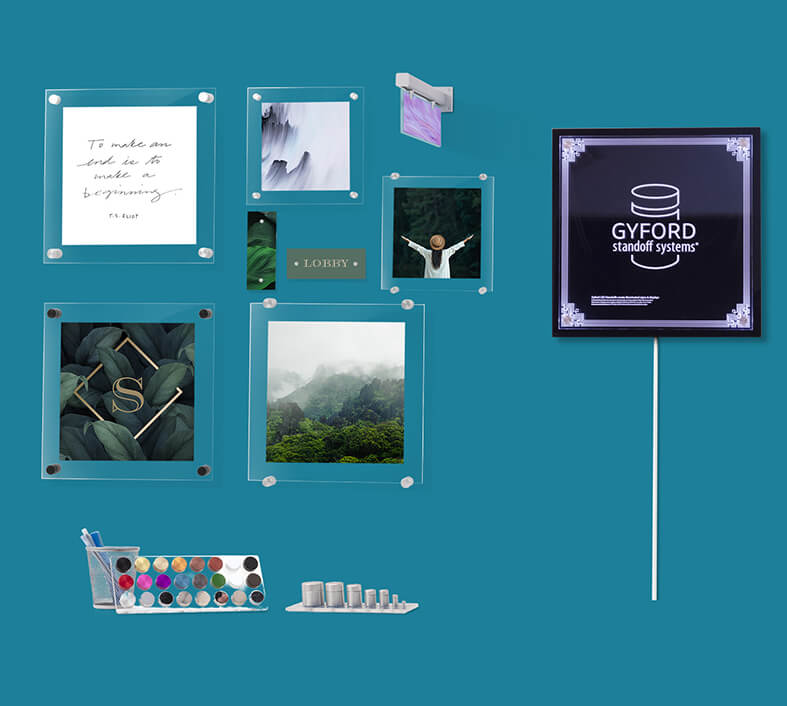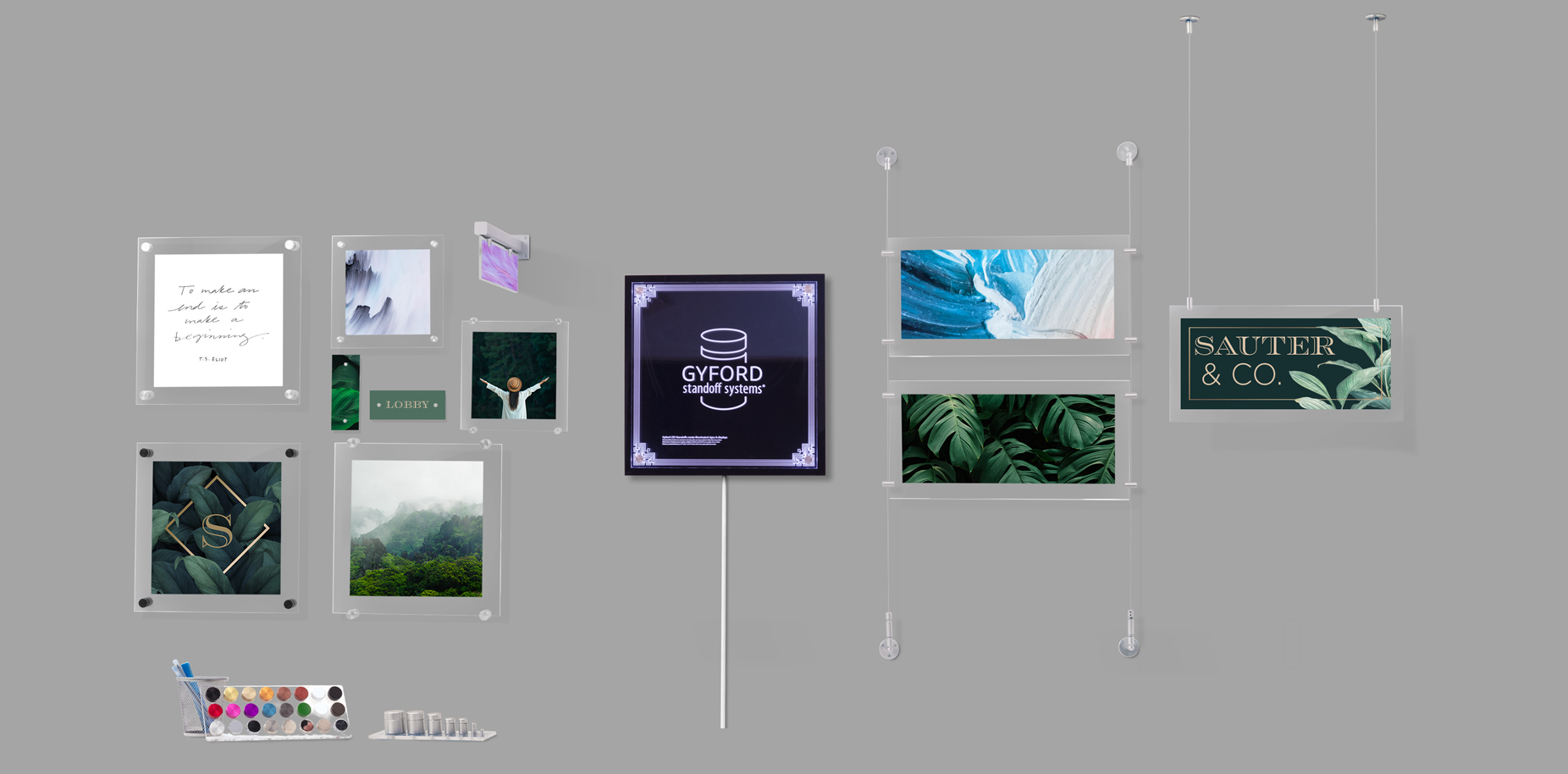 Pro Kit
Pro Kit buyers receive 10% purchasing discount for one year!
Our premium showroom display features everything in the Starter and Essential kits PLUS a sample of wire mount displays. This is the kit that will make your customers say, "WOW!"
A Closer Look At Our Three Kits
We've developed three convenient kits that will work with any showroom size and budget: Starter, Essential and Pro. Each Showroom Kit features a selection of Gyford Display hardware specifically chosen by our in-house team of Display Professionals to best showcase your creativity and products.
Kit Includes…
SOK-9-100: 1" x 1" Clear Anodized standoff kit, with two 18" x 18" 0.125 sandwiched acrylic sheets
SOK-9-100BL: 1" x 1" Black Anodized standoff kit, with 18" x 18" 0.125 clear acrylic
SOK-7-050: 3/8" (D) x 1/2" (L) standoff kit with 3" x 8" 0.125 clear acrylic
SOK-8-500: 5/8" (D) x 1/2" (L) clear anodized standoff kit with 12" x 12" 0.125 clear acrylic
SOK-PEG9: 1" diameter edge grip kit, with 12" x 12" 0.125 clear acrylic
SOK-PEG75: 3/4" diameter edge grip kit with 12" x 12" 0.125 clear acrylic
SLK-BL-250: Blade mount sign with 4" x 18" 0.125 clear acrylic
DEMO-SO1: Desktop standoff display for available sizes
DEMO-CLR: Desktop demo for custom colors and finishes
Fully built LED Demo sign: 1/4'' laser engraved 18''x18'' acrylic on 1/4" black matte/gloss 20'' x 20'' material
WSK-1: Wall mounted wire panel system with two sheets 12" x 24" .125 clear acrylic
WSK-4PK-EVG-125: Four-pack of grippers for WSK-1 wire system (above)
WSK-7: Ceiling mount wire display with 12" x 24" 0.125 clear acrylic
Starter

Essential

Pro

For more information, or to order today
Call: 775-829-7272