Compliant Designs for Education and Healthcare Environments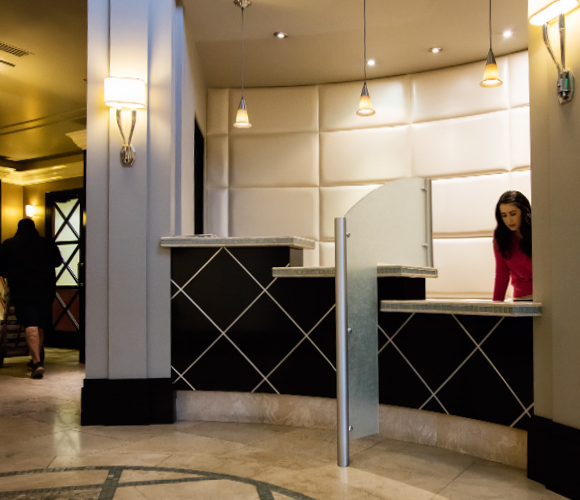 The thought of HIPAA and FERPA compliance in an office setting can conjure up a daunting to-do list. Aside from digital security, organizations must also physically protect information as well. Let this be an opportunity to create a modern and inviting lobby, improving your guest experience and raising the morale of employees.
Pairing metallic hardware with designer panels creates a visually inviting environment while securely protecting personally identifiable information. Short privacy partitions allow employees to still interact with visitors without computer screens or paperwork being visible. This is a great choice for a receptionist at a doctor's office or in a university setting.
In this healthcare setting, Gyford H-Tube and Spider Mounts have been used to make a short partition. The employee has an unobstructed view of the lobby while keeping her computer screen protected from prying eyes. The choice of a textured semi-transparent material for the partition panel creates a visual barrier while still allowing light to pass through.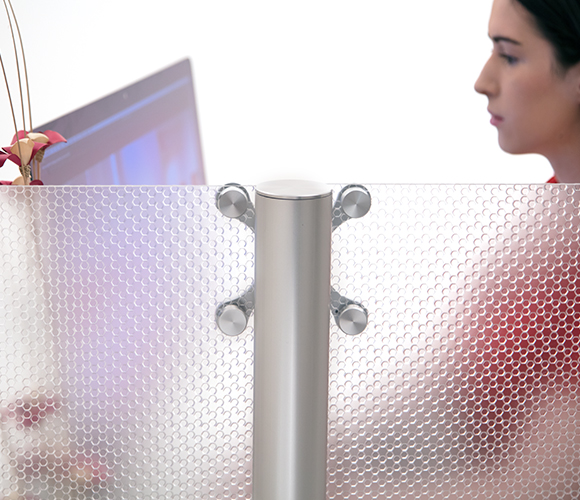 The H-Tube posts are hollow anodized aluminum with ¼" thick walls that work great for side tap mounting options. The spider mount hardware may be mounted with panels behind or in front of the posts. Material mounted in front of the posts give more dimension to the design by utilizing barrels or spacers to push the panels away from the securing hardware.
Here, a half wall partition divides the downstairs public lobby from upstairs administrative offices. The choice to use clear resin allows ambient light to pass and pairs well with Gyford square extrusion.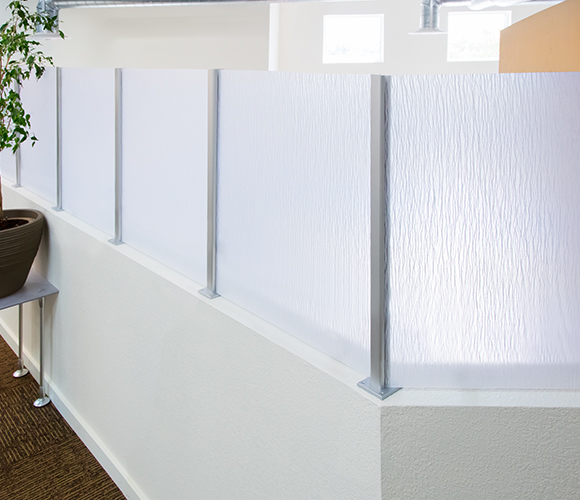 Here is an example of orange resin panels mounted to the desk using Gyford square extrusion to isolate the employee's vision from people passing by while also protecting the privacy of the computer screen.