Mounting to Uneven Surfaces with Variable-Depth StandOffs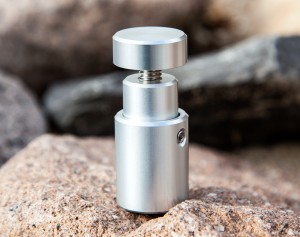 Mounting to uneven surfaces can be tricky. Mounting a sign to stone, for example, requires a way to attach a flat surface to a very rough and non-uniform surface. Placement may dictate that one corner be an inch off the wall while another corner is an inch-and-a-half off the wall. In this scenario, the problem can be solved by simply ordering corresponding-length StandOffs, but what if the measurements aren't convenient stock lengths? What if you won't know what the surface variation is until it's time to install the sign?
Variable-depth standoffs create a very flexible solution that can adapt to a range of lengths with just a turn of a hex key. Like edge grips, variable-depth standoffs use a hollow standoff body that mounts to the surface. A smaller standoff barrel then slides into the assembly and is held in place with a small cup point set screw. Material is attached with a traditional threaded stud and standoff cap.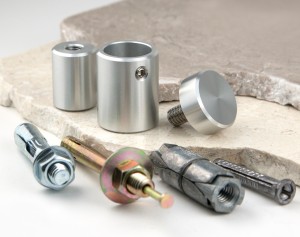 When you have a job that requires a fast, adjustable and sturdy mounting solution, just pick the right anchors or ask our design support team for help and variable-depth standoffs do the work.